Conceal-id
Conceal ID gives you the ability to make a memorable alias for your CCX address. In that way, you can handle transactions in an easier and faster way. In the near future, sending and receiving messages using the ID will also be implemented in Cloud and Desktop wallet.
Disclaimer: The Conceal team has reserved certain IDs for official use. Please check that the ID is on the reserved list before trusting anyone claiming to represent Conceal.
zemanel.conceal.id — madmax.conceal.id — okanist.conceal.id — katz.conceal.id — taegus.conceal.id — boot2thill.conceal.id — hashofzorro.conceal.id — thewolf.conceal.id — devopsralf.conceal.id — bombon.conceal.id — krypt0x.conceal.id — community.conceal.id — team.conceal.id — ccx.conceal.id — labs.conceal.id — funds.conceal.id — marketing.conceal.id — operations.conceal.id — foundation.conceal.id
ID is in available in Cloud (https://conceal.cloud) by clicking the ID link in the top menu, and it has its own landing page (https://conceal.network/id/).

ID link in the main menu
If you have no ID created yet, you will be presented with a form to create a new one.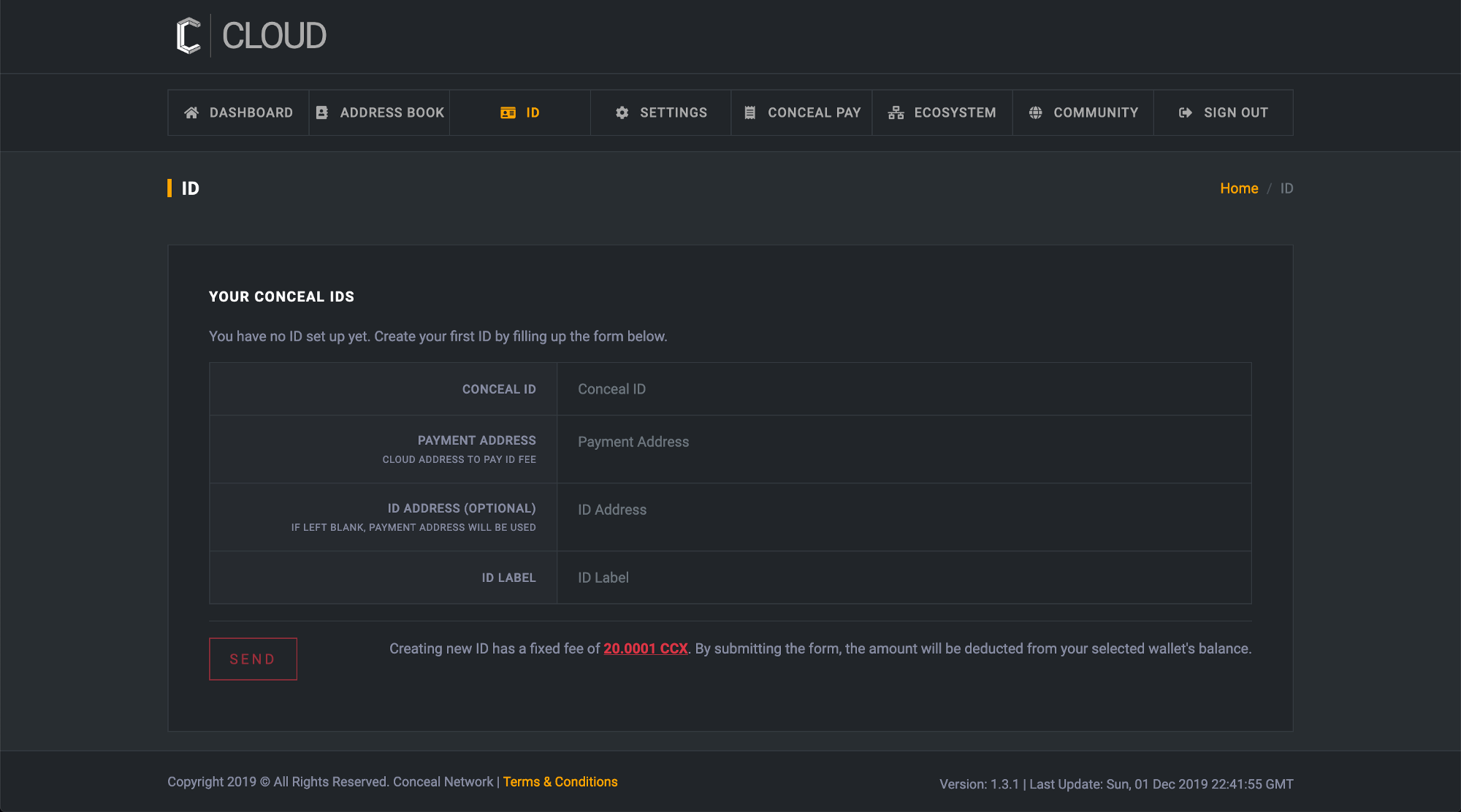 Empty ID form
In order to create a new ID, one of your Cloud wallets has to have enough coins to cover the 20.001 CCX ID fee. When you have enough coins, fill in the fields appropriately:
Conceal ID (required) — this will be your ID which will have a form of yourname.conceal.id. Only alphanumerical characters are allowed in this field (a-z|0–9).
Payment Address (required) — the address from which ID fee will be deducted. This has to be one of your Cloud wallets with enough coins to cover the ID fee.
ID Address (optional) — this is the CCX address to which your Conceal ID value will be aliased. If left blank, your ID will be aliased to the payment address of your Cloud wallet selected above. ID Label (required) — label to use for this ID.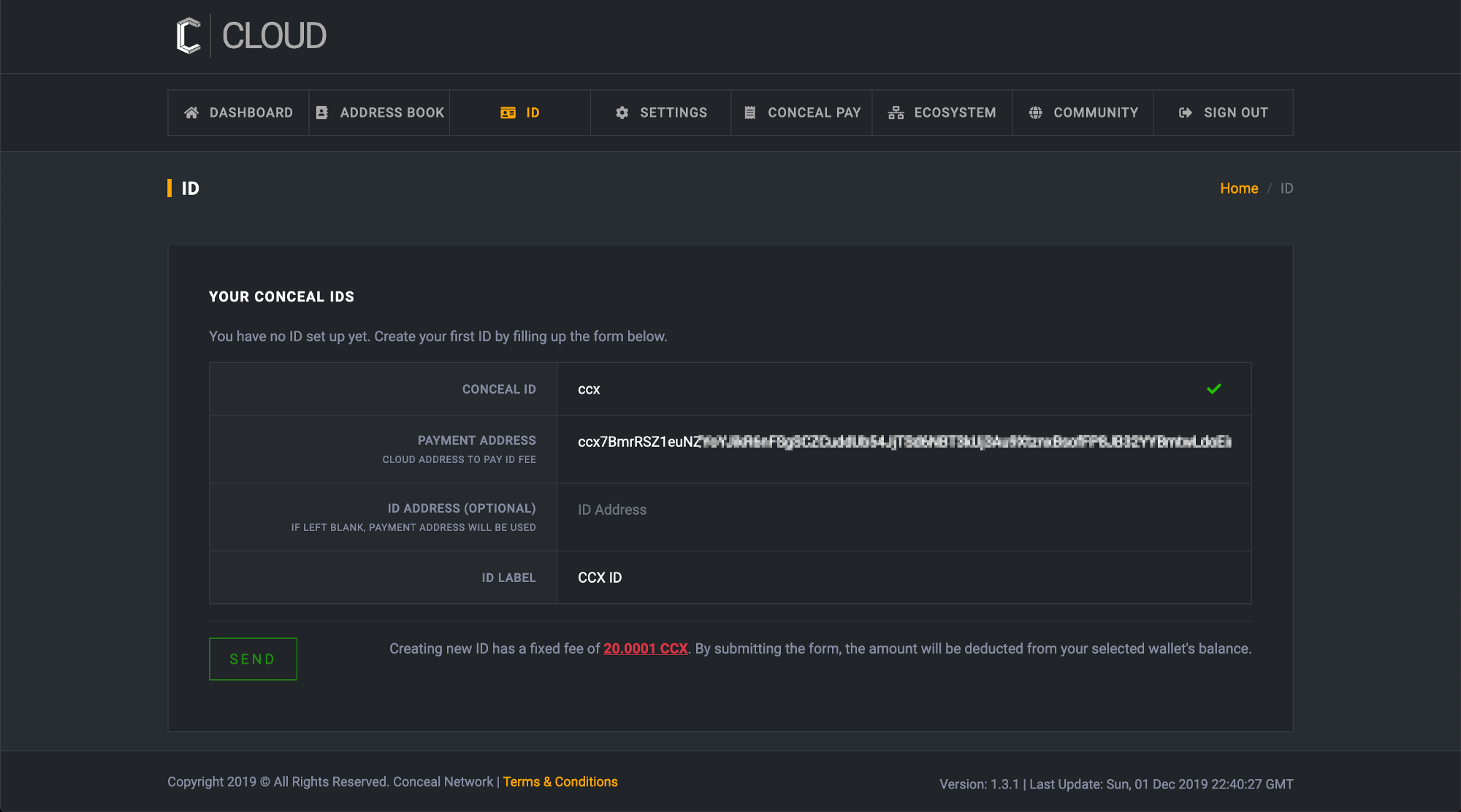 Valid ID form, ready to be sent
If everything went fine, you should see your newly created ID and its details by clicking the desired ID in list of your IDs.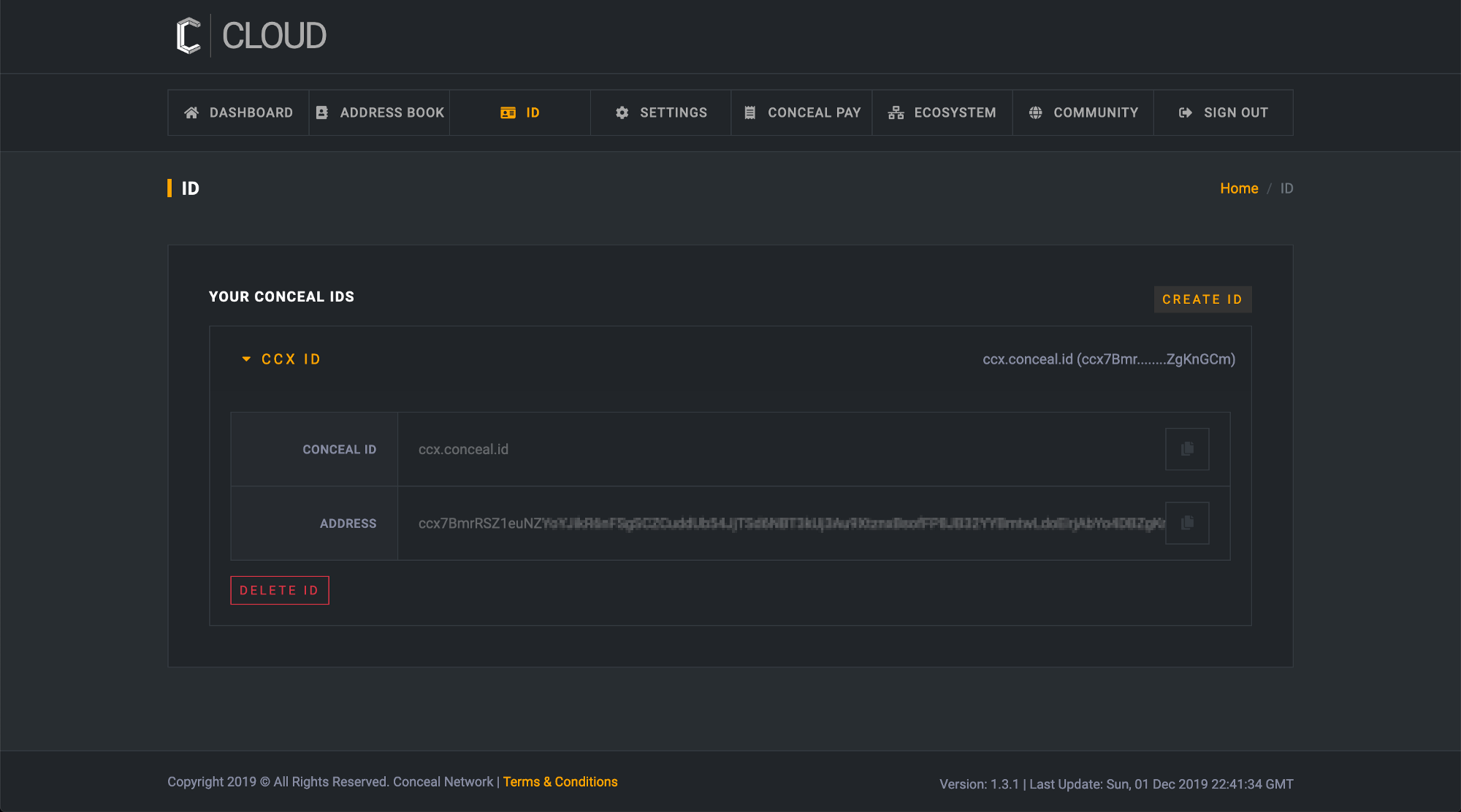 Expanded details for one of IDs
From this point on, instead of using your CCX address to manage transactions, you can use your ID (ccx.conceal.id in the example above).
In case you don't want to use ID anymore, you can delete it by clicking the "Delete" button after opening ID details. The ID fee you paid will not be refunded, so choose your ID carefully to avoid unnecessary spending!