Clive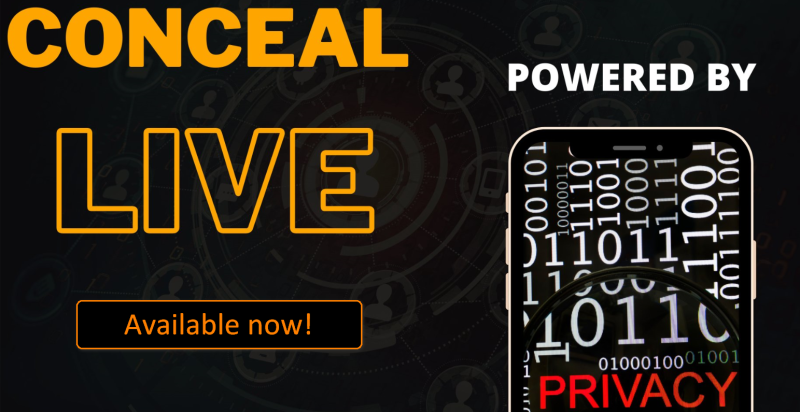 Conceal Live
Conceal Live (Clive), is a powerful privacy-protected communications software that offers peer-to-peer and end-to-end encrypted audio, video and messaging services for free.
All communications are peer-to-peer and end-to-end encrypted:
Fast - Latency and transfer speeds are greatly reduced thanks to the direct peer-to-peer connections.

Autonomous - Users who are on the same local network can communicate even if they are disconnected from the internet.

Anonymous - No personal information needs to be provided when creating an account.

Secure - Uses X.509 encryption.

Unlimited - Without restriction on file size, speed, bandwidth, features, number of accounts, storage or anything else.

Ad Free - No Ads!
This private communication client is currently available for Android and Windows users with a possible future release for iOS. Clive brings private communications back to the people.
Android Download: https://conceal.cloud/conceal-live/conceal-live-v1.0.1.apk
Windows Download: https://conceal.cloud/conceal-live/conceal-live-v1.0.1.msi
Clive is a wonderful perk we offer to the world and is just another great tool in the Conceal ecosystem that is always expanding.
Enjoy Clive and the Conceal lifestyle!
Conceal Live - Best Practices
Android Screens/Settings:
Once you download and install Clive on your Android cell, you will manually add new contacts by selecting the (+) sign. Below are examples of added contacts. 
An important step in Clive setup is to backup your account, in case you need to change to another Android cell. Select the Account icon (star icon) in the lower right hand corner to access the Change Password and Backup Account feature. Follow the procedure to create a Password and to Backup your Clive account. 
You can also link another device to your Clive account by swiping up on the "Link Another Device To This Account" menu. Follow the procedure to link an established account to another device. 
At the top right hand corner there are 3 icons. A Delete Account icon (trash can), Clive local settings (star icon) and the Blocked Contacts (cancel icon). 
Select Clive local settings to access the General, Media or Advanced menus. 
Default settings are shown for General, Media and Advanced menus.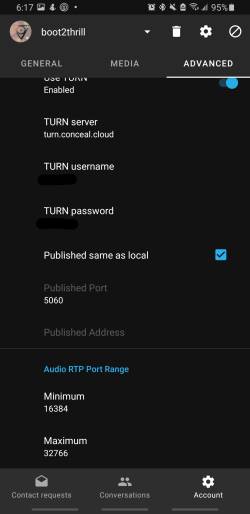 FAQ:
I'm unable to connect Clive in my mobile?
When it refuses to connect and go "online" restart the phone, go to Settings and turn off the DHT proxy, turn on the Run in Background option, and then press the switch to go offline, then back online. That should get it back the first time when it gets stuck, now every time you switch VPN networks or if you switch Wifi networks it might not reconnect, so then just go back to the switch where it says Connecting, turn that off, wait a couple seconds, then turn it back on and it should connect again.